Learn with the Cowbridge History Society
The Society has its study centre located in the History Room, Old Hall, High Street, Cowbridge CF71 7AH.
The public are welcome to visit most Wednesday mornings, when there will be someone there to help with any enquiries or local research. We have a wealth of documents and photographs of the town and the rural Vale of Glamorgan for you to browse through. For more information, please go to The History Room.
Almost all of the archived material has been uploaded to Peoples Collection Wales where it can be accessed online free of charge for personal research.
The Society is sometimes able to provide talks and guided walks to organisations (not individuals) but these must be by prior arrangement with the Secretary.
In addition, the Society can offer small grants for specific research projects. For details, please go to our Grants page.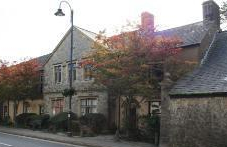 The History Room in Old Hall, High Street, Cowbridge CF71 7AH is open to the public most Wednesday mornings, 10:00 – 12:00.