The History Room
The Cowbridge History Society operates a local history room from the Old Hall Community College in High Street, Cowbridge; it is open most Wednesday mornings between 10 and 12.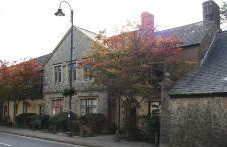 In 2008, this room was set up from the large collection of photographs and documents that had been gathered by the late Jeff Alden. He was a keen local historian, who ran classes in the town for Cardiff University's Extra-Mural Department, and published several books on the history of Cowbridge and the surrounding area under the umbrella of the Cowbridge Record Society, now merged into the Cowbridge History Society.
The History Room welcomes visitors and queries from all over the globe to enjoy and use its archive collection. People call in just to browse, others to research family history or buildings and places of importance to them. There are files, for example, on events and happenings, clubs and societies, trades, school photographs, maps, wills going back to the 17th century, census returns, parish registers, people's memories and diaries. Most of the shops, houses and other buildings in Cowbridge and Llanblethian, Aberthin and elsewhere have been researched as to when they were built and who lived in them from their earliest days – often with stories and anecdotes of the occupants.
There is much ongoing work to do in this respect, as history is created daily, and also in respect of the constant filing of material which comes in on a weekly basis. Donations of material and people's memories and stories are always welcomed and valued. Original documents are usually copied to keep here, then either returned to their owner or placed for safe-keeping in the Glamorgan Archive in Cardiff.
The History Room in Old Hall, High Street, Cowbridge CF71 7AH
is open to the public most Wednesdays 10:00 – 12:00
The Cowbridge History Society has recently purchased digital equipment, aiming to scan and catalogue all the material held in the room – a huge ongoing task that requires a number of helpers. Anyone who has an interest in local history, general administration, helping people with their research, digitisation techniques (none of it necessarily just on Wednesday mornings), please come forward and contact:
Betty Alden on 01446 773373
or any of the Cowbridge History Society committee.
This project received funding through the Rural Development Plan for Wales 2007–2013, which is funded by the Welsh Government and the European Agricultural Fund for Rural Development. The funding is administered by Creative Rural Communities, the Vale of Glamorgan's Rural Regeneration Initiative.